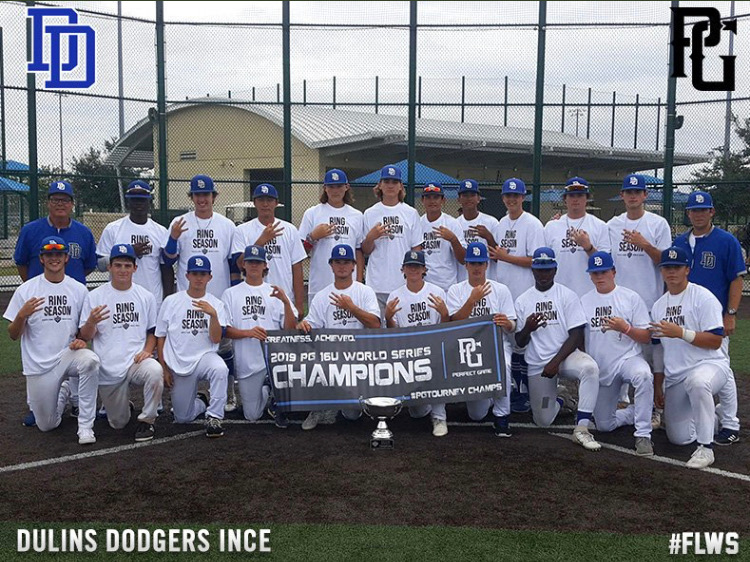 16U PRIME RALLY FOR PG WORLD SERIES 3-PEAT
SANFORD, Fla. – For the third consecutive year, a PG World Series trophy will be heading back to Memphis with the Dulins Dodgers organization. After winning the 14u World Series in 2017 and the 15u World Series in 2018, the pressure was on for the Dodgers. Looking to rewrite the storyline, the Scorpions 2021 Founders Club brought the pressure, but ultimately it was not enough to hold off the defending champions, as the Dulins Dodgers secured a 6-4 victory after seven innings.
The Scorpions got on the board first in the second inning with Davin Landers executing on a squeeze play to score Eric Day from third base. In the second inning, the Scorpions were able to push another run across the plate, scoring on a wild pitch with the bases loaded.
Sometimes using the same methods to score proves to be successful. Day also scored on a wild pitch in the fourth inning. Later on in the inning, Corey Robinson was able to lay down the safety squeeze to score Dylan Jacobs from third.
After four and a half innings, the Dulins Dodgers found themselves trailing by four runs and needing an offensive spark. Dylan Leach got the rally started by knocking a ground ball through the right side, allowing Jeffery Ince to score from second base. Blaze Jordan reached on an error with a run-scoring on the play, cutting the Scorpions lead to just two. Slate Alford and David Jeon followed Jordan with back-to-back RBI singles to tie the game. Dulins Dodgers pushed their fifth run of the inning across the plate on a wild pitch and took a 5-4 lead.
The Dodgers added an insurance run in the sixth inning on a sacrifice fly from Jordan, which scored Lane Forsythe from third base.
Forsythe, a Mississippi State commit, was named Most Valuable Pitcher for the 16u PG World Series after a fantastic showing throughout the week. Forsythe combined for 13 hits and walks for the week, while also stealing two bases. In the semifinal game against the East Cobb Astros, Forsythe took the mound and completely dominated. While throwing a complete game shutout, Forsythe also allowed just four hits and fanned five hitters.
In the final two innings of the championship game, Dylan Leach took the mound for the Dulins Dodgers. Leach, a catcher committed to Arkansas, shut down the Scorpions offense and did not allow a baserunner. The two's were wild in the box score for Leach – two spotless innings on the mound and two hits at the plate.
Cade Bush earned Most Valuable Player honors after several outstanding performances throughout the World Series. In the semifinal game against Elite Squad 16u, Bush toed the rubber, allowing just one earned run over five innings of work. For the week, Bush, a Florida State commit, accumulated a .435 batting average, tallying 10 hits, eight RBI and three stolen bases.