15U PRIME – PG WORLD SERIES CHAMPIONS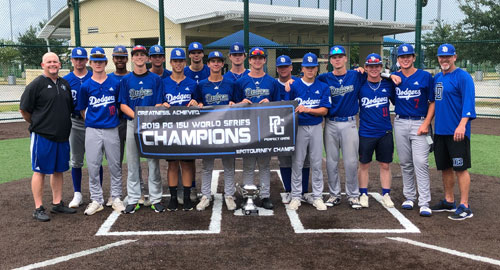 15U PRIME – PG WORLD SERIES CHAMPIONS
Rain forces 15u co-champs
SANFORD, Fla. – Sometimes you win. Sometimes you lose. Sometimes you're playing a fantastic game and Mother Nature decides to spoil the finale, such as what happened on Wednesday in the PG 15u World Series championship game. With the score deadlocked at 5-5 when the rain came through, the Dulins Dodgers 15u Wright and Canes National 15u were named co-champions of the tournament.
The Canes were able to open the scoring in the bottom of the first inning. Cole Young reached on a fielder's choice and then proceeded to advance to second and third on consecutive pitches. North Carolina commit James Triantos knocked in Young, a Duke commit, with a two-out RBI single to right field.
Dulins Dodgers took a run back in the second and then took the lead in the third inning. In the second, Texas Tech commit Cade McGarrh showed his plate discipline, drawing a bases-loaded walk after working a full count. With two outs in the top of the third, Easton Carmichael worked back up the middle and drove in a run with a single to center to give Dulins the lead.
Heading to the bottom half of the inning, the Canes were able to respond with four runs of their own. Triantos got the scoring going when he ripped a ground-rule double with the bases loaded, plating two runs and giving him three RBIs in the championship game. Xavier Isaac crossed the plate on a passed ball while Triantos advanced to third base. Adam (AJ) Shepard, who is committed to Indiana, scorched an RBI double to center field, giving the Canes a 5-2 lead.
Down three with the weather closing in, the Dulins Dodgers knew that they needed to put some runs on the board quickly to give themselves a chance. Kolby Branch responded almost immediately, launching a solo shot to left, cutting the Canes lead to just two. Following Branch's home run, Ethan Coley, Joshua Russell, and Cooper Clapp drew three consecutive walks to load the bases with just one out. Tanner Jones decided to play the role of the hero, knocking a two-run single to left field to tie the game.
Jones was named MVP of the 15u PG World Series after impressive performances on both the mound and at the plate. In two appearances on the mound, Jones threw 6 1/3 innings, striking out six and allowing just five hits. At the plate, Jones hit .333 with a double, triple, home run and seven RBI